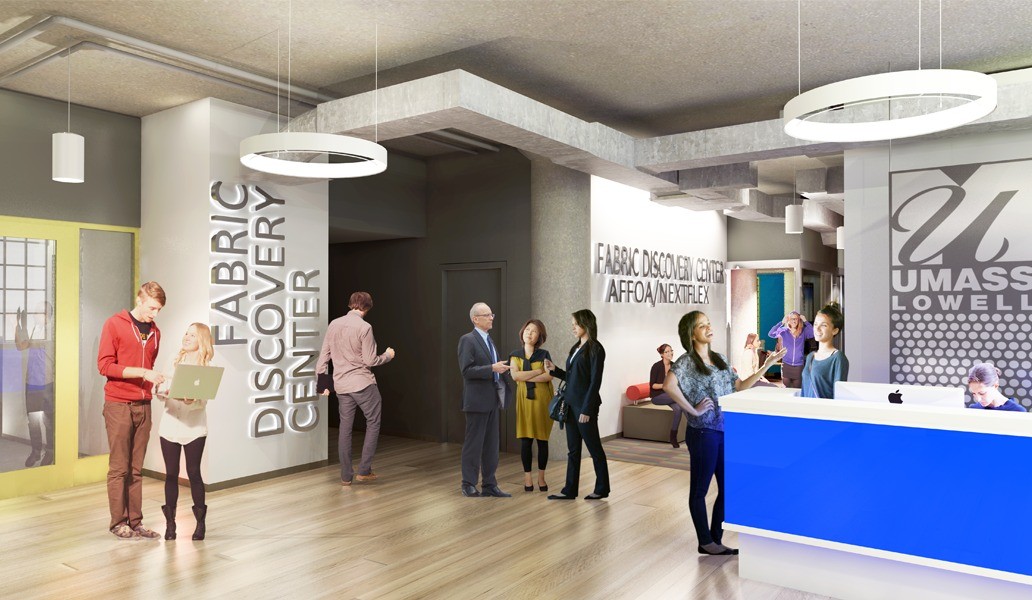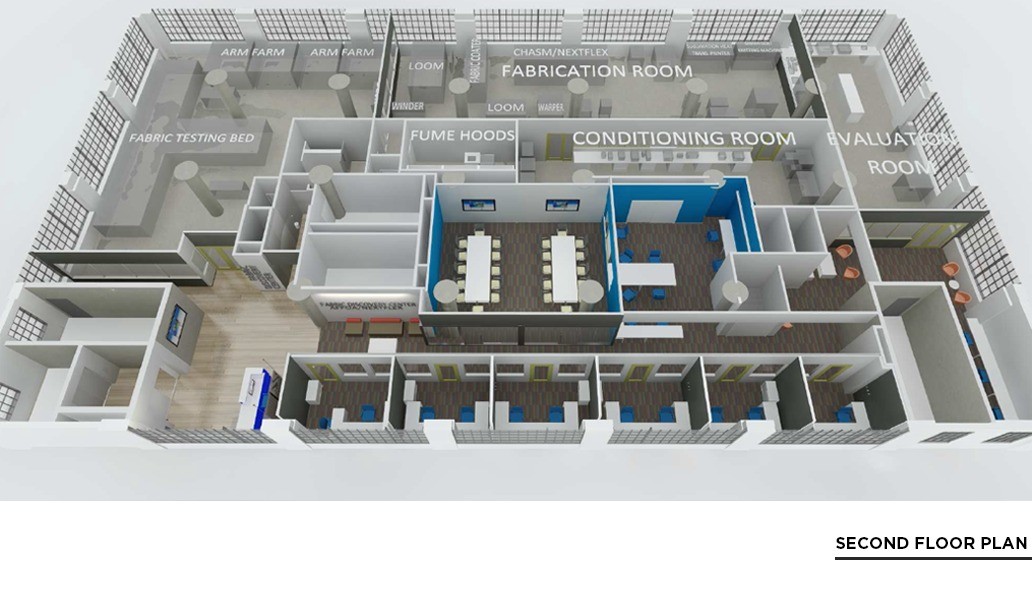 Fabric Discovery Center at 110 Canal
UNIVERSITY OF MASSACHUSETTS, LOWELL
The UMass Lowell Fabric Discovery Center concentrates on the development, testing, and manufacturing of consumer and commercial fabrics that are blended with flexible electronics. The center occupies the first floor, second floor, and the canal level, of 110 Canal with a unique combination of interdisciplinary research programs. For advanced textiles and fiber-based materials, the Fabric Discovery Center is a unique advanced manufacturing, testing, and gateway innovation facility. The facility serves the needs of organizations in Massachusetts and the region to rapidly transform textile product concepts into functional prototypes. The facility is an end-to-end fabric innovation ecosystem with capabilities ranging from resin compounding equipment, fiber extrusion lines, textile assembly (e.g., knitting, weaving), and textile finishing (e.g., coating, digital printing, bonding/seaming) equipment. Testing capabilities include mechanical and thermal properties, flammability, permeability, and durability. This pilot production and test facility enables companies to evaluate new fiber additives and fiber materials, new modifications to assembly and finishing, and new designs, allowing for the most promising technologies to be quickly identified and evaluated. The Fashion Makerspace area is used to transform materials and patterns into test products, which, in turn, are evaluated in test environments at the co-located NERVE Center. The New England Robotics Validation and Experimentation (NERVE) Center, is a dedicated research, testing, and training facility. The mission of the NERVE Center is to improve the development of robotic systems by both academic researchers and corporations by facilitating evaluation throughout the design cycle. Physical Therapy researchers also help evaluate and inform product development through motion capture and gait studies.
The first floor includes spaces for all three research functions, including the Fabric Makerspace, Physical Therapy Labs, and much of the NERVE Center research, testing, and training facilities. The second floor houses the Fibers Fabrication, Conditioning, and Evaluation Rooms, shared offices, a conference room, and technical and staff work stations. The NERVE "arm farm" and "autonomous vehicle testing" platforms are located on the second floor. NERVE storage, Fabric storage, washer/dryer system and autoclave, as well as the PH Neutralization system (water treatment) and compressor are on the canal level.
The Fabric Discovery Center website can be found here: https://www.uml.edu/Research/fdc/  
If you are interested in learning more about the Fabric Discovery Center project, please contact Ned Collier, Education Studio Principal.
New England Robotics Validation and Experimentation (NERVE) Center
Advanced Fabrics & Textiles Research Lab