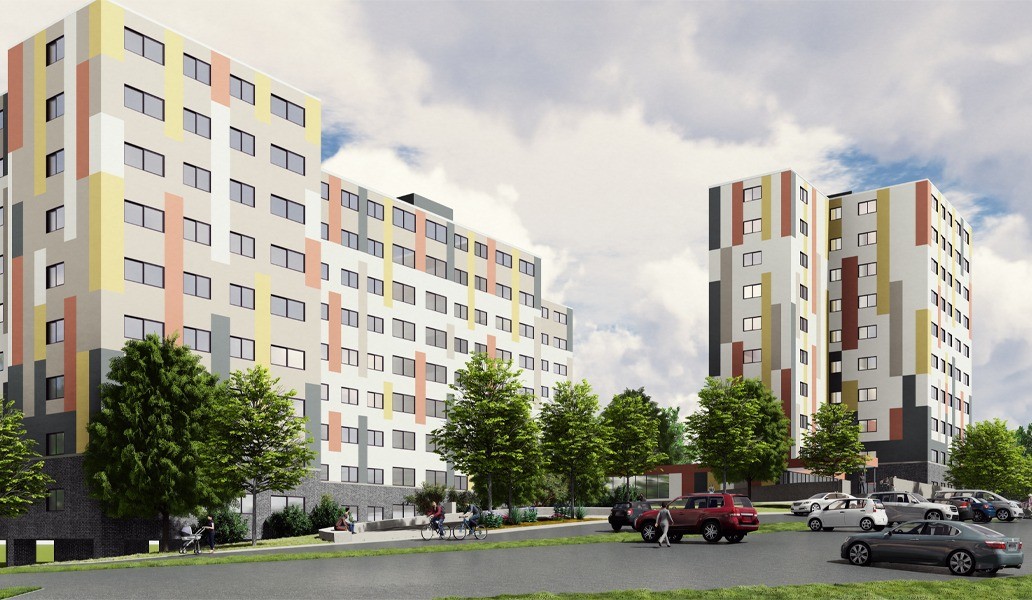 ICON Architecture designed the modernization of Salem Heights, a 283-unit affordable housing community located in Salem, MA. Composed of two 10-story highrise towers built in the 1970's, the complex contains 77 one-bedroom and 186 two-bedroom apartments. The two towers are connected at the ground floor, and sited atop a hill with expansive views of the City of Salem and its harbor beyond.
Initially, the intent was to focus primarily on upgrading unit interior, including aging mechanical systems. During the initial review, extensive exterior masonry cracking was determined to be due to the 1970's construction which allowed the façade to be constructed without relieving angles (typically provided on every other floor). Exploratory masonry demolition revealed that welded stone anchors were deteriorating, and the exterior sheathing had absorbed moisture and was partially delaminated.  The project focus quickly shifted to demolition of the exterior façade and recladding with a lighter material.  This also provided opportunities to greatly improve the thermal performance of the exterior envelope with continuous insulation to reduce energy usage. The new exterior includes new structural insulated sheathing panels, composite metal panels, and thin brick at the lower levels.  New energy efficient windows and TPO roofs with rigid insulation are being provided on both towers.
All units will receive new state-of-the-art HVAC multi-function air exchange units, which provide individual temperature and humidity control, as well as fresh air as part of heating and cooling capactiy.  Interior unit upgrades will provide kitchen and bath replacements for approximately 30% of the units, and will convert 5% of the units to be fully accessible, and 2% to sensory-impaired. Common area upgrades inlcude new multi-purpose amenity spaces and property management offices. Three existing exterior spaces will be reconfigured for accessibly and a wider range of uses, including a new playground.