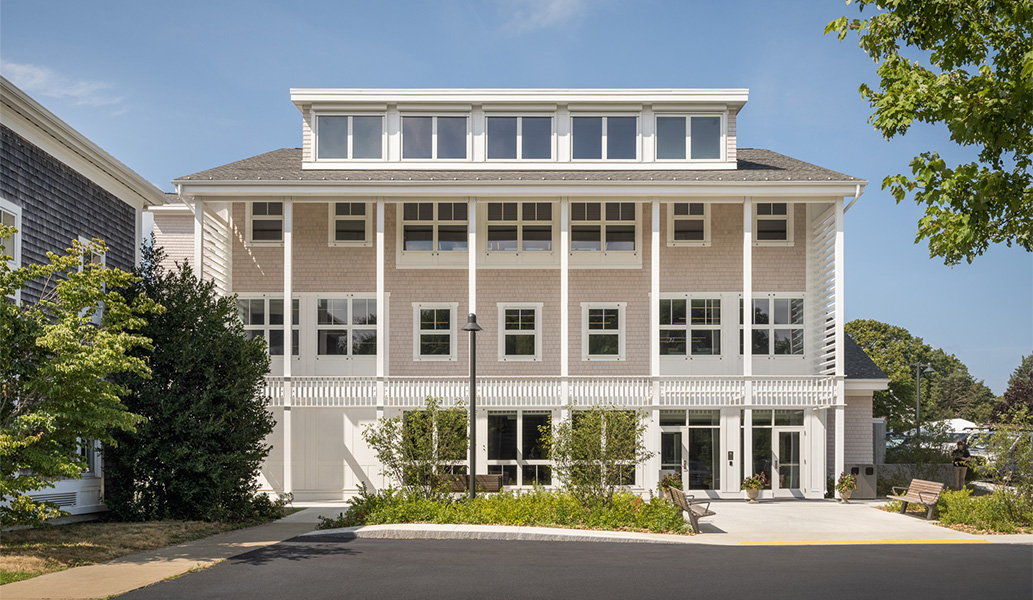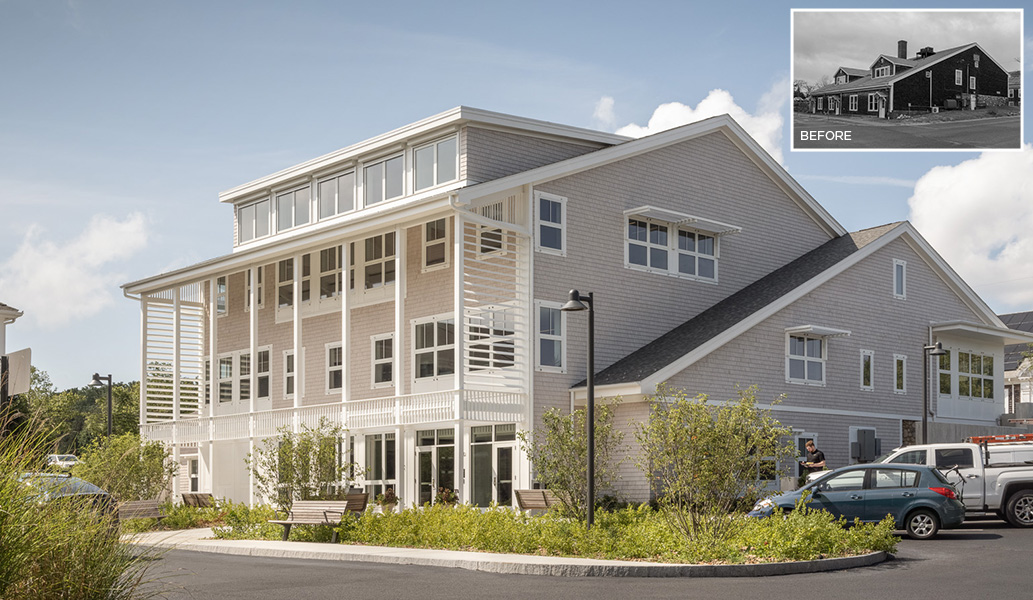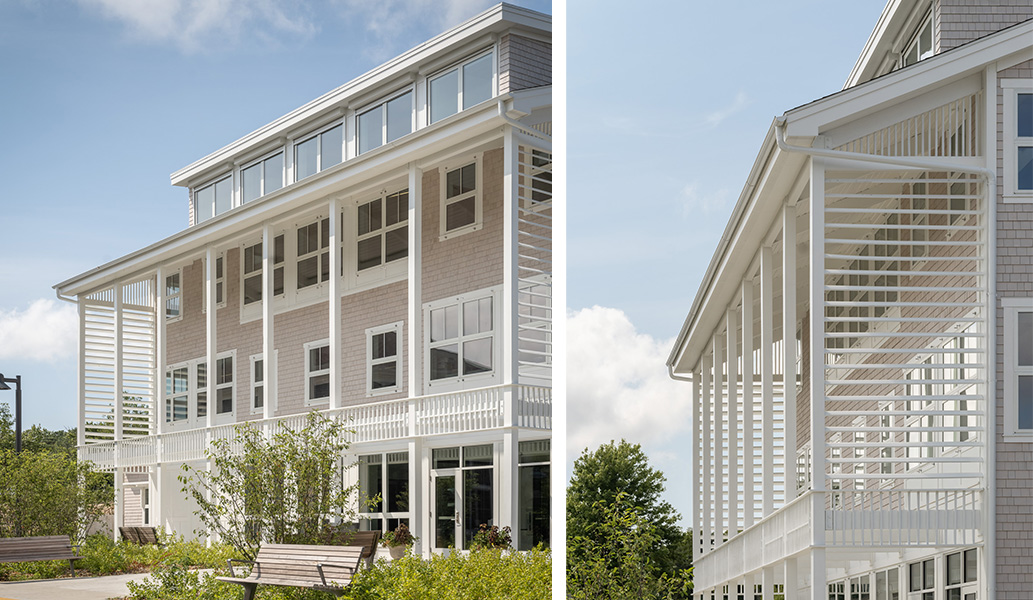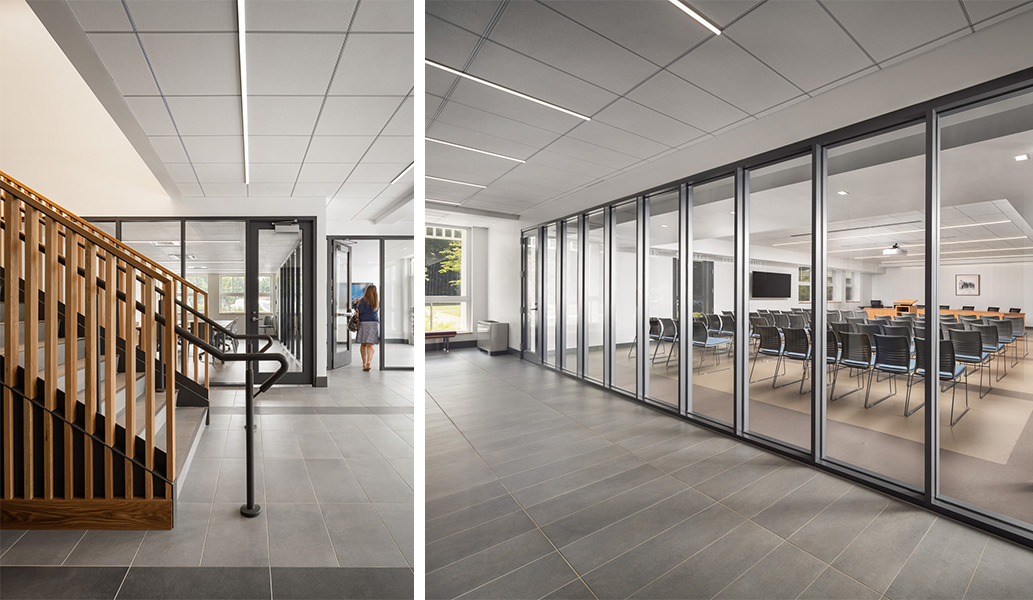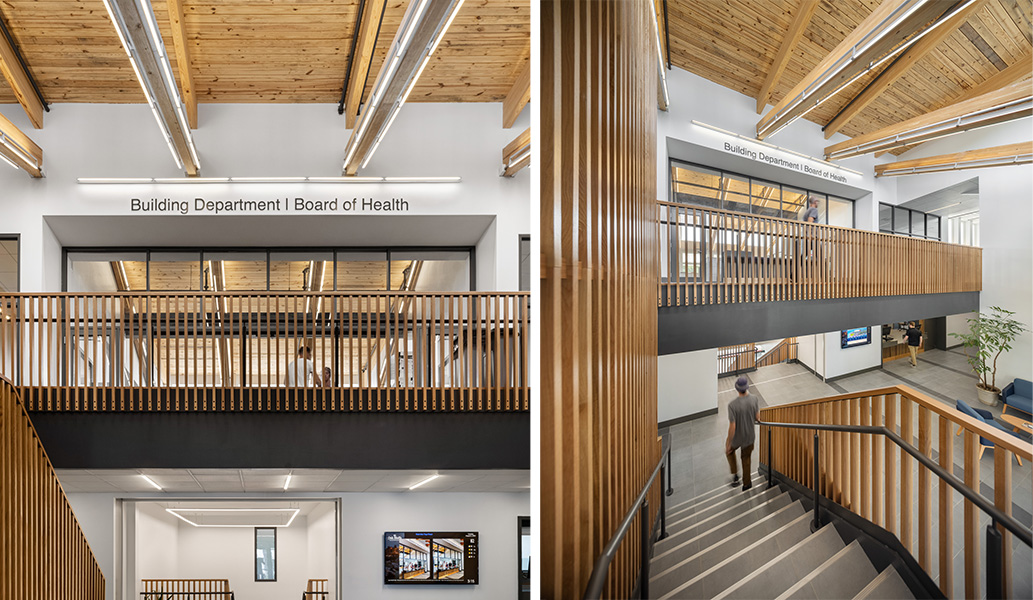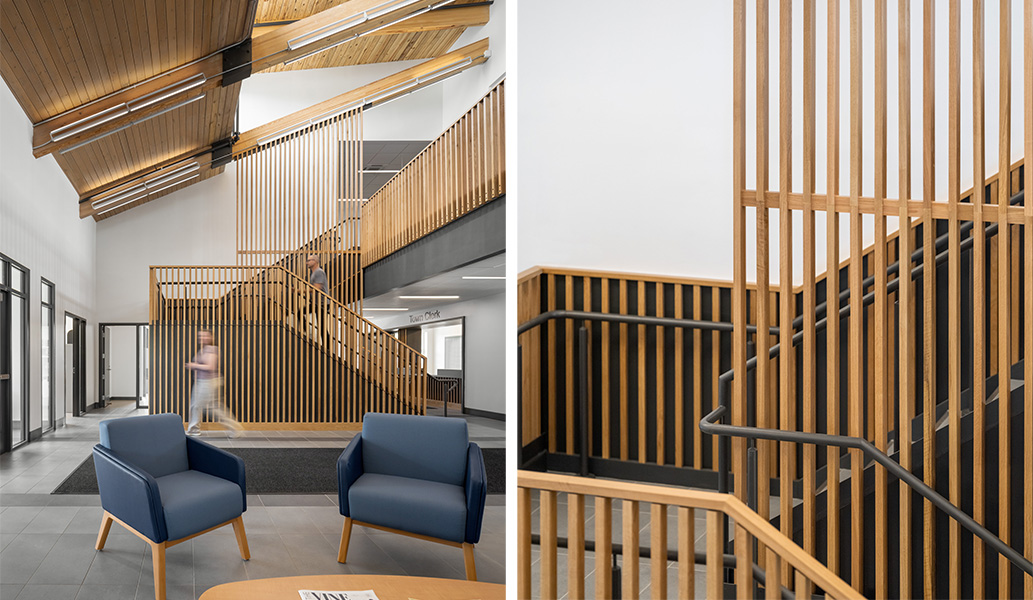 Oak Bluffs Town Hall
MARTHA'S VINEYARD, MA
The Town Hall was in an old school building first constructed in 1938, then significantly expanded in the 1960's. After a detailed assessment of the existing building, the design team was determined that the existing heavy timber roof construction, floors, and exterior walls could be retained (approximately 70% of the existing building). The design inserts a new steel and heavy timber structure (including reuse of existing glulam beams) and an additional floor within the existing building footprint.
The main project goals were to create a modern, healthy work environment for the Town staff and Oak Bluff's community, to reduce energy loads and greenhouse gas emissions, and to create a fully accessible, welcoming, and well-organized community services center. Town Hall is entered from School Street, from which all services can be accessed. Straightforward wayfinding was an important design consideration. Upon entering the lobby, the transaction counters for the Treasurer/Tax Collector and Clerk are directly ahead flanking a stair leading down to the public meeting rooms. The elevator is to the right and an open stair leads to a second-floor balcony with the building, planning, and public health departments, and the conservation commission.
Town Hall can also be entered from the parking area behind the building (shared with the Oak Bluffs Public Library). At the lower level, the Town meeting rooms can be accessed, even when the administrative offices are closed. The connecting stair between the floors and the elevator can be closed off for security. The Board of Selectmen meeting room houses up to 85 occupants when configured for board meetings. A second meeting room seats 12 when configured with central conference table.
The building envelope was upgraded to meet US Passive House Institute performance standards. Retaining the heavy timber construction (glulam beams and tongue in groove planking), the building is continuously externally insulated. The triple-glazed fiberglass windows are all externally shaded.
The building is all electric, requiring no fossil fuels. The building is designed to support a substantial photo-voltaic system that will generate close to 30,000 kWh annually (these will be installed by the Town as part of a separate existing program). There is also a battery storage system being integrated to increase the building's resiliency during outages. Adding this renewables approach to the existing Town Property Portfolio, enhances Oak Bluff's Net-Zero goals.
All regularly occupied interior spaces are fully day lighted with operable windows. The environmental control is a variable refrigerant flow system (VRF + heat recovery) with a dedicated outdoor air system (DOAS). This system allows for varying degrees of heating/cooling in only certain areas, reducing energy consumption and improving thermal comfort for the occupants. Interior materials and systems were selected for their durability, ease of cleaning, and simplicity of operation.
The design process also came at a moment in time that we needed to weigh the impacts of a global pandemic (COVID-19). The team weighed the impacts to the programming with addressing social distancing and other public health and resiliency metrics. The design made some minor shifts in adjacencies and public engagement spots such as transaction counter design. The team also added higher performing filters to the designed system, we spoke with healthcare experts about the impact of pathogens and what could be done to make the building most useful while protecting public health
DATA
16,350 GSF
SUSTAINABILITY
All Electric Building / High Performance Building Envelope