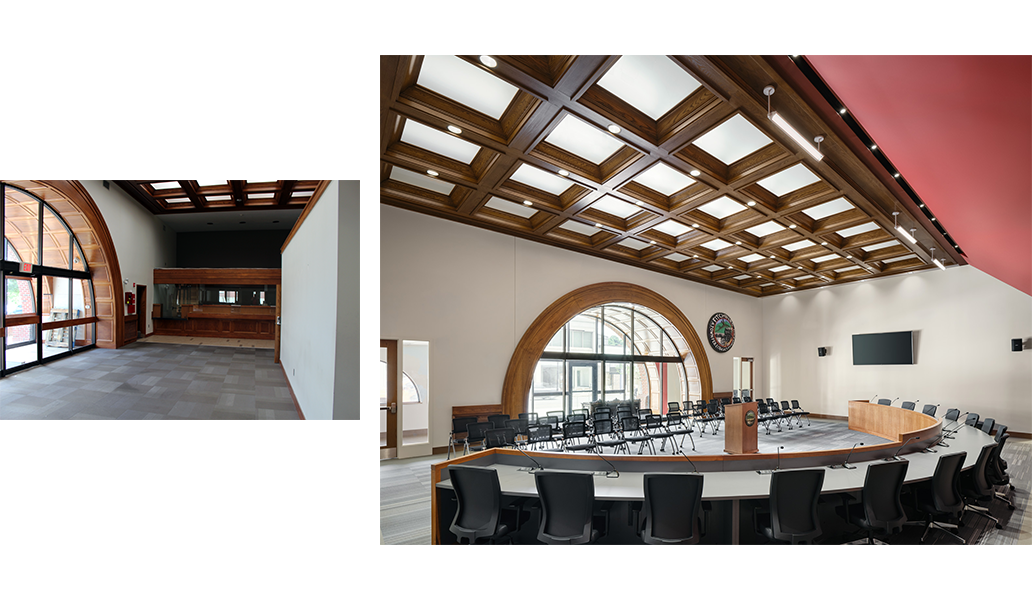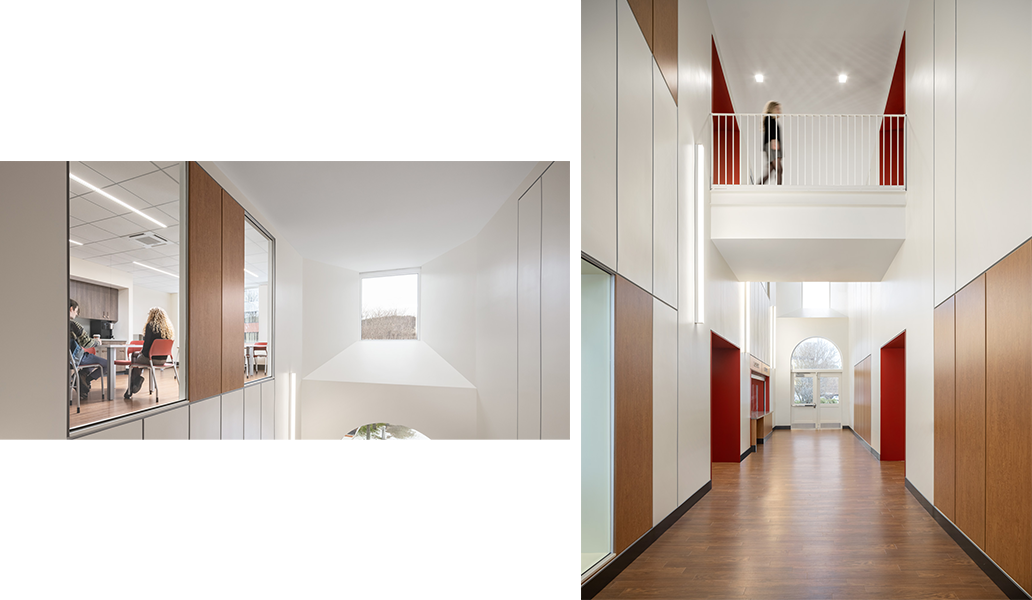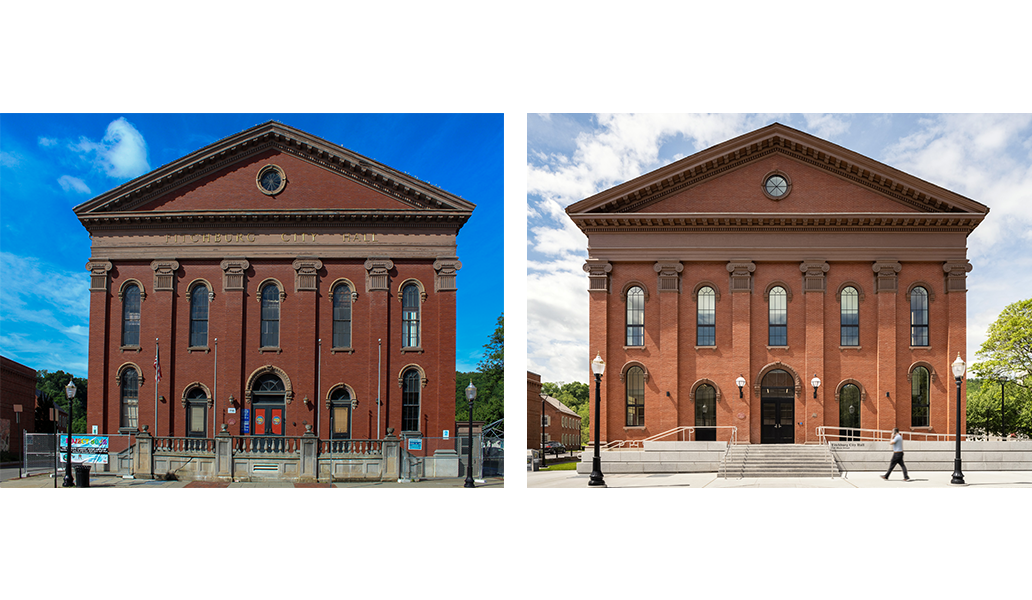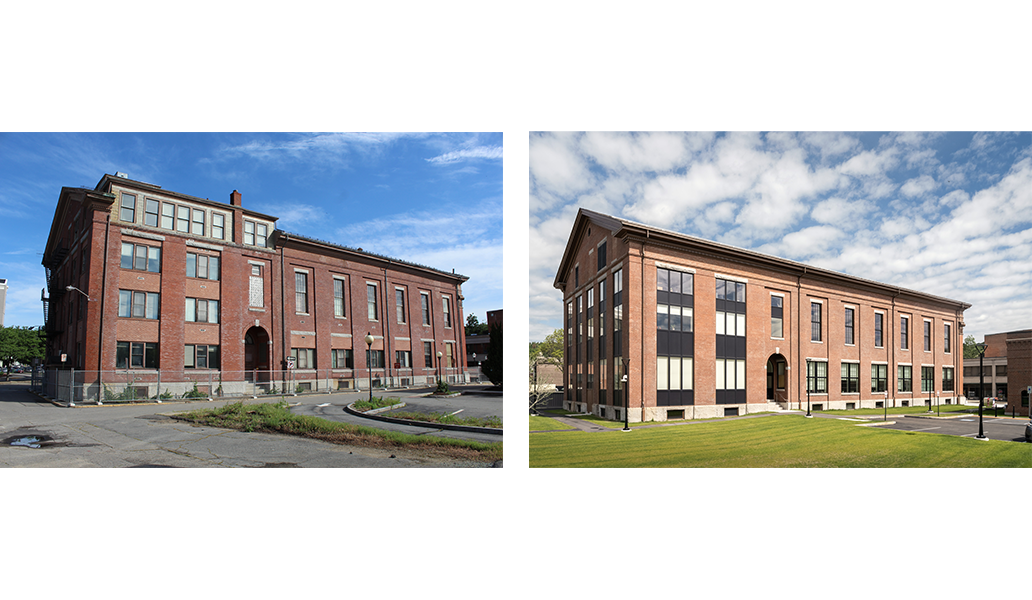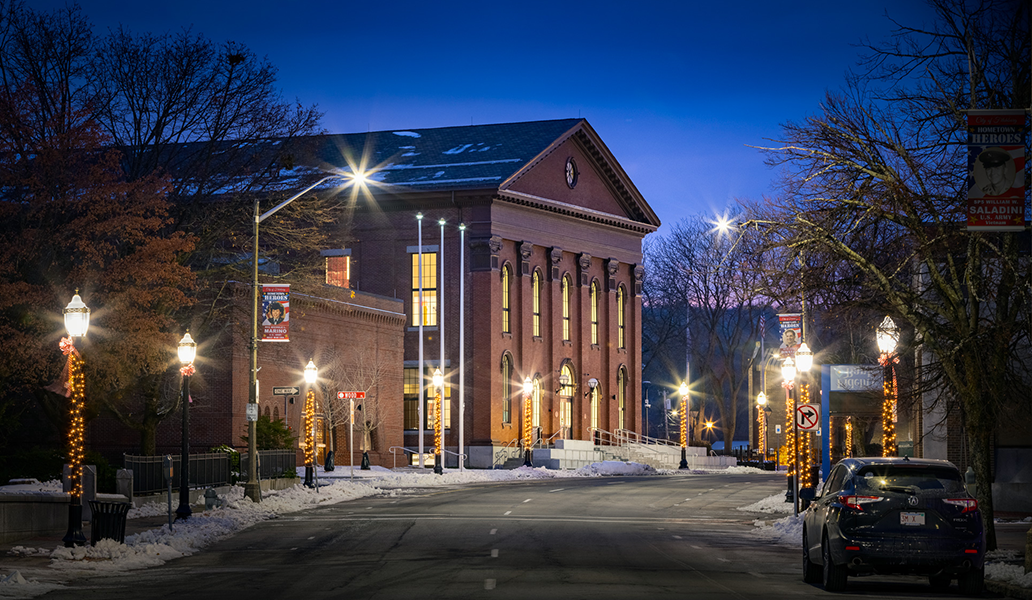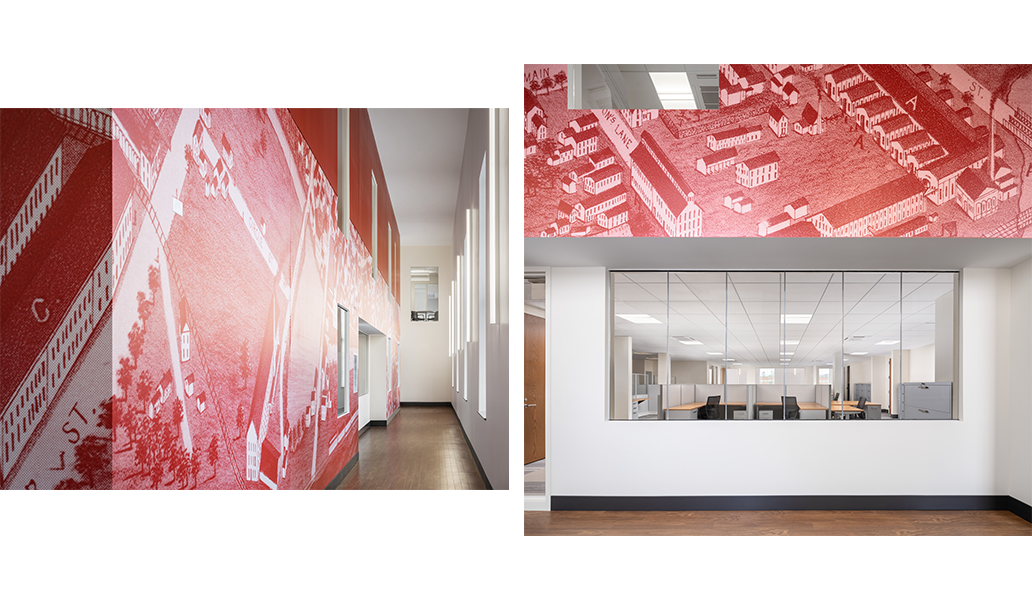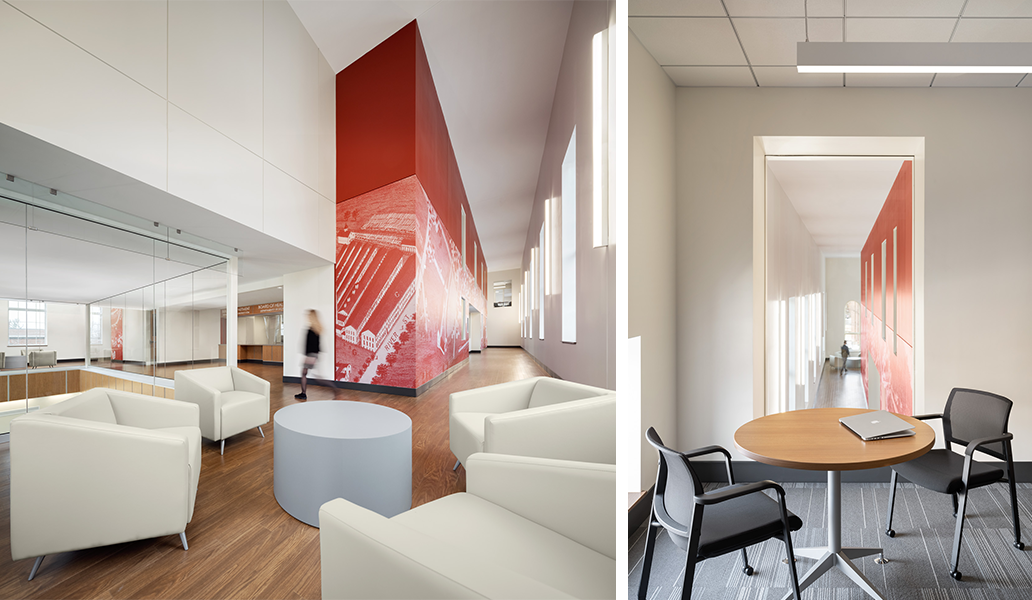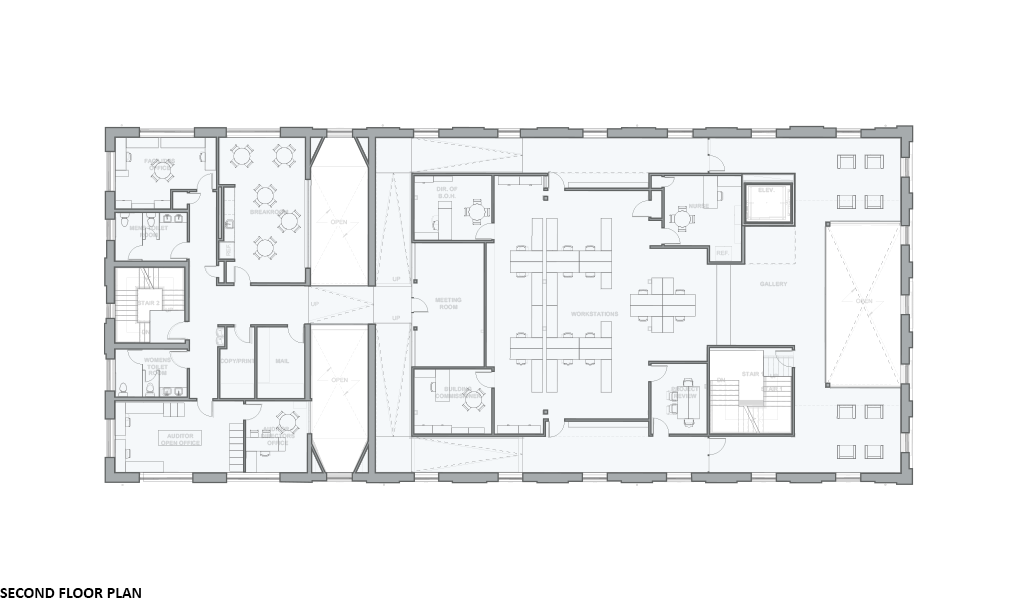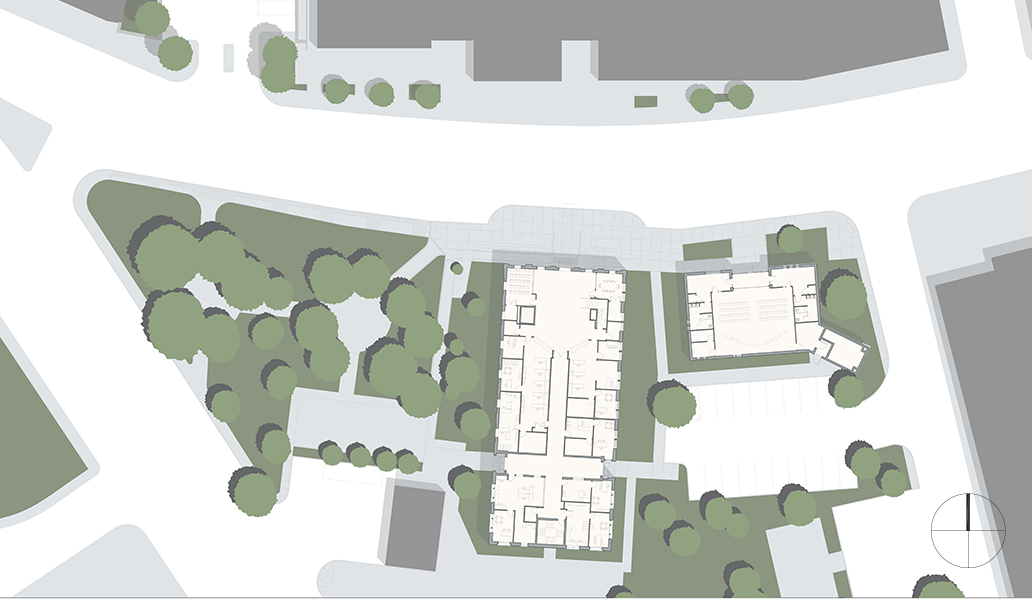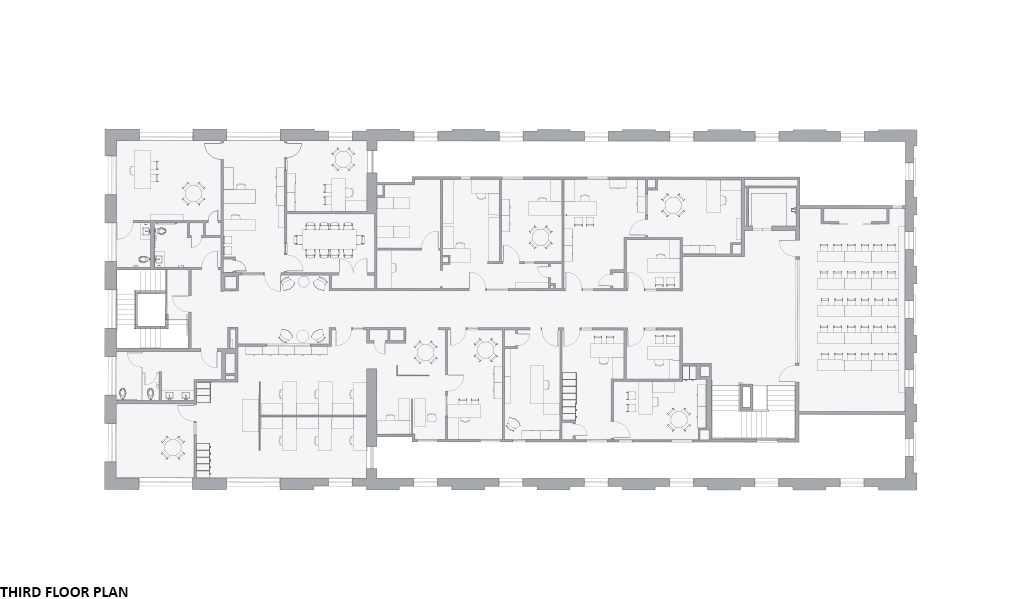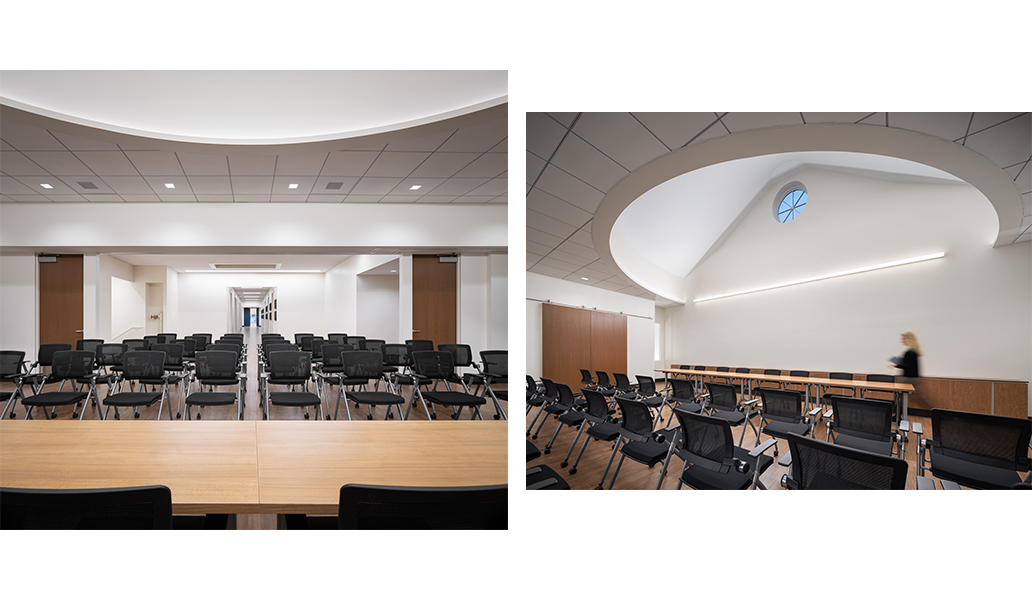 City Hall Campus
FITCHBURG, MA
The two-story Italianate Fitchburg City Hall was built in 1853. The building featured brick walls on a granite foundation with brick pilasters, brownstone and terracotta details, granite lintels, and a slate roof. There were offices on the first floor and a large public meeting room on the second floor. In 1879, a stage house was added to the building. City Hall is listed in the Massachusetts Cultural Resource Information System within the "Downtown Architecture of H.M. Francis, Fitchburg, MA", and recommended for listing in the National Register of Historical Places on the Massachusetts Historical Commission Inventory Form.
During the 20th century, the building underwent many changes, particularly the 1879 addition. This part of the building ultimately became four stories with the addition of dormers. The renovations removed nearly all the original interior layout and details. In the 1960's, when an elevator was inserted into the 1879 addition, the structure was significantly modified, and ultimately revealed during this project to have been seriously damaged.
Today, the 1853 exterior has been fully restored, with the brownstone and terracotta details carefully repaired or replaced in kind. The original entry has been reestablished as the building's primary and fully accessible public entry. The 1879 addition roofline was restored but the compromised internal structure led to replacing the existing floors. This was an opportunity for the floors to be aligned with the 1853 floors improving accessibility.
The new interior accommodates fourteen administrative departments. The goal was to create a modern and efficient workplace for city administrators to better serve Fitchburg residents. Wayfinding is straightforward: upon entering the front door lobby, the transaction counters for the Treasurer and Clerk are directly ahead flanking a central corridor. On the left side of the lobby is the main stair. On the right side of the lobby is the elevator. The lobby is a double-height space allowing a view to the second-floor Building and Public Health Departments' transaction counter. The central corridor leads to the Assessor and the Recreation Departments. A third floor was inserted into the original double-height auditorium. The third floor is dedicated to multiple administrative offices, including the Mayor, Human Resources, and a large flexible training room.
Indoor environmental quality was important design consideration. During the programming process, the most common request was for access to daylight and windows. This has been achieved for every building occupant – the two-story hallways between the second and third floors are a way of sharing daylight and preserving the tall auditorium windows.
An adjacent mid-1980's bank building was converted into the Legislative Building, housing the City Council Chambers. The coffered high-ceilinged banking hall was ideal for the chamber with space for the 15-member council table and audience seating for up to 120 people. The Chamber is easily accessible to the public for night meetings and flexible in its use during the day.
Bank Adapted into Council Chamber
AWARDS
2021 Paul & Niki Tsongas Award | Preservation Massachusetts
2021 Accessible Design Award | Boston Society for Architecture